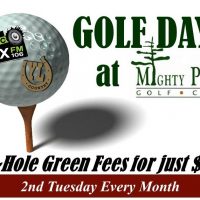 We have such a blast every year, we just couldn't resist bringing it back. YL Country & KIX FM have teamed up with the Mighty Peace Golf Club once again to give you discounted 18-Hole green fees! This fantastic offer is available on the second Tuesday of every month May through September.
Enjoy 18-holes of golf for just $10…
*May 22 (*kick-off on third Tuesday of the month),
June 12, July 10, August 14 & September 11
Offer applies to all/any tee time(s) booked on eligible days, no cut off time. Call the club house to book – 332-GOLF (4653).